N/A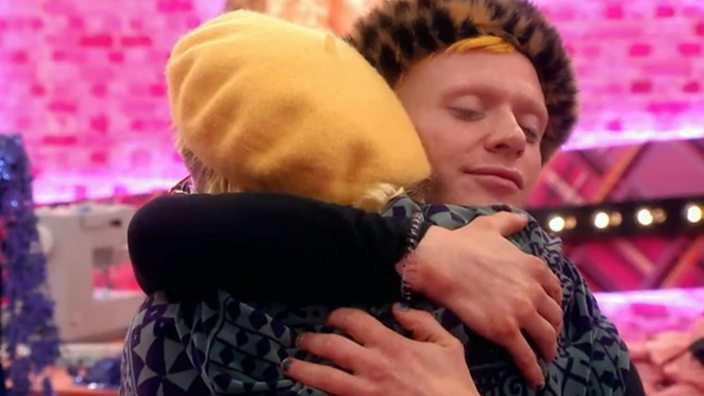 Nine times RuPaul's Drag Race UK taught us all valuable lessons
Drag Race UK has brought us glamour and glitter, but it has also educated us about issues like homophobia, HIV and gender identity.
But the BBC Three show also tugs at our heartstrings, enlightening us all about issues affecting LGBT people.
Watching Drag Race UK is an immersion in LGBTQ culture. The queens offer viewers their authentic experience as LGBT people, opening up about everything from homophobia to HIV. They share their wisdom about coming out, transitioning or exploring gender identity, and look fierce while doing it.
Here are some of the most powerful moments where the queens have enlightened us throughout the four series (and spin-off) so far.
1. Divina opens up about going to school under Section 28: Series 1, episode 5
Divina de Campo broke down discussing how classmates treated her growing up under Section 28.
Section 28 of the 1988 Local Government Act banned schools from promoting "the acceptability of homosexuality."
Divina spoke about the impact of this law. "Every single bit of those gremlins in my head are from those kids in the playground pushing and shoving and calling you [homophobic slurs]. Because of Section 28…teachers felt they couldn't step in."
Though Section 28 was rescinded in 2003, bullying is still a fact of life for many young LGBT people. The Charity Just Like Us, who work with schools and young people across the UK to ensure LGBT+ young people can thrive, revealed in 2021 that 42 percent of LGBT school pupils had been bullied.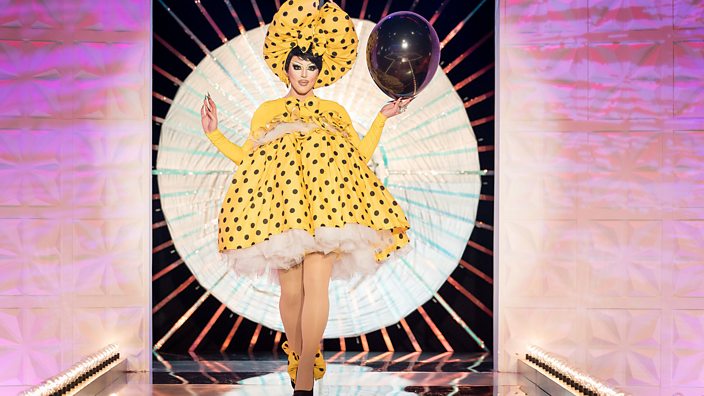 2. Cherry Valentine educates the other queens about growing up in a Traveller community: Series 2, episode 2
The late Cherry Valentine managed to inspire viewers during their time on the show, especially when they opened up about growing up in the Traveller community.
Cherry said: "I was always brought up that you'll find a wife, you'll get married…when I started having the feeling of being gay … that wasn't the right thing in my mind."
Cherry discussed toxic masculinity in the Traveller community, but also the "fabulous" women from their community who inspired them.
Cherry further educated the world about Traveller LGBT people in their BBC Three doc Cherry Valentine: Gypsy Queen and Proud. Speaking to BBC Three prior to the release of that film, The queen spoke about messages from the many fans who her message resonated with: "It's very humbling when people reach out and send me messages. I'm really thankful and happy that there is the ability to talk about things."
3. Ginny Lemon and Bimini Bon Boulash's discussion about being non-binary: Season 2, episode 3
Drag Race UK has featured many fabulous non-binary queens. But Ginny and Bimini's conversation about gender was among the show's stand-out, most-praised moments.
"Non-binary isn't a new thing," said Bimini, "it's just a new term. It's just basically someone that doesn't feel like they are either masculine or feminine.
"As humans, we're so complex that having a binary… just doesn't make sense."
Ginny discussed growing up in a home where "anybody who was any different from the binary was a freak." However, after leaving home, they said they were able to "accept me for who I am."
4. Victoria Scone speaks to Krystal Versace about bulimia: Series 3, episode 2
During a mini-challenge, Krystal Versace joked that Victoria's size made her the "biggest competition".
Unbeknownst to her, Victoria had struggled with bulimia. She explained, "I've been a dancer since I was three, so there's always been pressure on me to be slim." This led her to disordered eating as a teenager.
Her recovery led her to drag – an artform where, "no one tells you what you have to look like."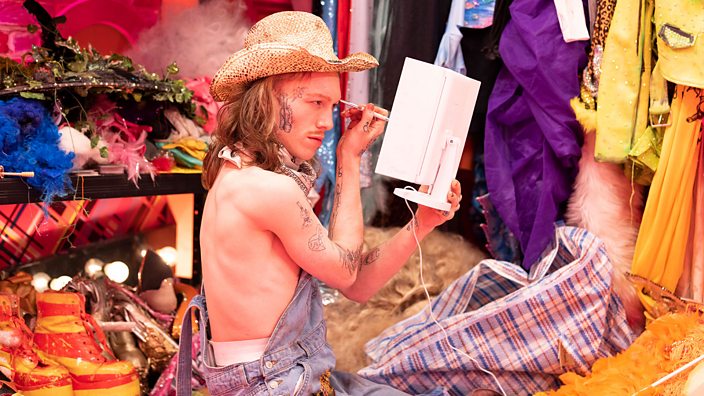 5-6. The queens raise awareness of HIV: Series 3, episode 3 and series 4, episode 6
With treatment, a person with HIV can become "undetectable", with a viral load in their blood so low it cannot be detected by test or transmitted.
Charity reminded us of the status of many people with HIV: "I take three tablets a day, and I live a normal life expectancy and I am undetectable – the virus cannot be passed on from me."
Then, in series four, Cheddar Gorgeous spoke about how contraceptives like PrEP had changed the way she thought about sex: "When I started PrEP, the feeling of realising that my sex life was not a death sentence had a profound psychological impact on me."
Cheddar also gave us a herstory lesson with her pink triangle runway look, which paid tribute to the activism work of the AIDS Coalition to Unlock Power. In her words: During the HIV/AIDS crisis…the ACT UP movement took those symbols that were used against us and turned that into a symbol of queer resistance."
7. Mo Heart shares her conversion therapy journey: Drag Race UK vs the World series 1, episode 5
Drag Race US's Mo Heart explored the emotional trauma that "gay cure" therapy causes in a workroom conversation about the with Blu Hydrangea (from Northern Ireland) and Janey Jacké (from The Netherlands) about the negative impact of religion on their lives.
Mo went through conversion therapy during college, and it left an impact on her mental health. "You think that you're so cursed because you're queer…A lot of it I have not processed," she said.
The queen added: "Of course, gay conversion therapy should be banned. It's not something you can cure, it's not something you can change."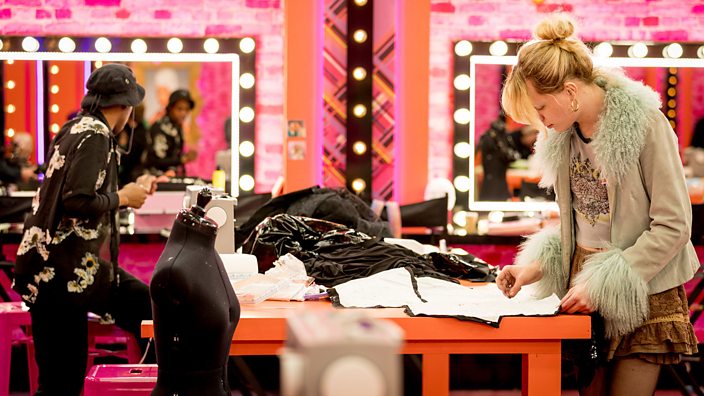 8. Dakota Schiffer shares memories of growing up trans: Series 4, episode 2
Dakota Schiffer was the UK's first trans-female contestant, and viewers praised her for her openness when discussing growing up questioning her gender.
"My dad's a stereotypical, masculine Cockney British man," she said. She and her twin sibling Harry "would love playing with dolls as kids, until age five when our dad was like, 'you're not allowed to play with these any more."
When she came out as trans, she said it was "certainly the most difficult of journeys for my parents, [but] they're good with it now…I know they're proud of me."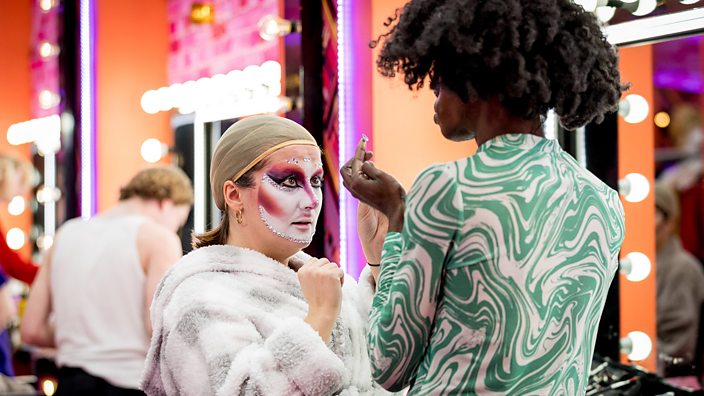 9. Black Peppa discusses homophobia on the island of Saint Martin: Series 4, episode 7
Black Peppa highlighted the impact of homophobia on her life and the importance of chosen family.
Speaking of life on the island of Saint Martin, she said, "Someone who's gay in the Caribbean, we don't win. …It's really scary being in a household where it is so religious, you don't even feel worthy of living."
Peppa left the Caribbean, and said it was her UK friends that allowed her to be herself. "I started dressing differently, I started acting more openly… I felt so liberated. It was not like the shame label that people wanted me to feel back home."
In a Twitter message, Black Peppa thanked all those who had been moved by the discussion: "Feeling so much love from all the lovely msgs [sic] am receiving from all over the world. My Queer family means everything," she wrote.